Make LRT Graphics Your Vehicle Graphics Headquarters
Previous Vehicle Graphics We've Done for Clients
Need to Get Noticed? Vinyl Wraps For Your Car Have the Highest Visibility!
LRT Graphics is a full service vehicle graphics and visual solutions company offering our clients high quality vehicle solutions from beginning to end. LRT prides itself in being there for our customers every need, from design to install. We want to make your business grow profitably by making it show visibly and the best and most cost-effective way of doing that is with vehicle graphics. From vehicle wraps, fleet graphics and vehicle decals to bus graphics, trailer wraps and graphics we are able to offer the North State's largest selection of vehicle graphics.
The easiest and best way to advertise any business is on a vehicle. Why? Vehicle graphics provide endless advertising for a one-time cost. It provides high quantity impressions without any extra effort for your marketing professional. Did you know that according to the Traffic Audit Bureau one vehicle graphic can generate up to 16 million impressions in just one year? That's 16 million individuals who have instantaneously become aware of your brand merely by seeing a vehicle graphic. Other than bringing your vehicle to the professionals at LRT, you didn't even need to do a thing.
Work with our graphic design team to create a vehicle graphic that is sure to stop traffic. We use high quality 3M vinyl material on all of our graphics, ensuring the best return on your investment. LRT specializes in all types of vehicle graphics including but not limited to full-color wraps, full-color partial wraps, car wraps, car decals, truck wraps, truck decals, van wraps, van decals, motorcycle wraps, motorcycle decals, fleet vehicle wraps, fleet vehicle decals, box van wraps, box van decals, window perfs and more!
Vinyl vehicle wraps are an increasingly popular marketing strategy in raising brand-awareness and enhancing a company's branding. Believe it or not, they deliver an even greater visibility than traditional outdoor advertising like roadside billboards.
What is a vehicle graphic?
Vehicle graphics are a 3M vinyl graphic that is applied directly to the paint on your car, van, truck, fleet vehicles, RV or boat and covers either your entire vehicle (full wrap) or part of it (either partial vehicle wrap or vehicle decals). A vehicle graphic can truly transform any vehicle into a successful advertising campaign over night, merely by making it visible. Did you know that 98% of in-car audiences indicated they noticed truck-side ads? Pretty impressive huh?
What type of vinyl do you use? Does it matter
The type of vinyl you use on your vehicle does matter, which is why LRT only uses the highest quality vinyl available to the industry – 3M. There are a large variety of reasons as to why we prefer to use 3M over other brands of vinyl but the bottom line is this, 3M vinyl is more reliable, more durable and is much much easier to apply and remove. What does this mean? Using this vinyl saves everyone time and money thereby allowing us to lower the costs of our graphics. If we had to use another brand it would force us to take longer on our install process and in cases in which we are removing previous vehicle graphics, it delays the removal process. 3M provides the best look, the best feel and is genuinely viewed in the industry as the best vinyl to use amongst vehicle graphics. Want to know more? Just ask!
What are the differences between vehicle wraps and a vehicle decal?
A full vehicle wrap allows you to apply your vinyl decal on 100% of your automobile, while a partial wrap covers a smaller portion of your original paint job – but still is applied to the majority of your vehicle. Vehicle decals are also made of our high quality 3M materials, but covers a much smaller part of the vehicle. A vehicle decal is typically a vinyl graphic that is on the sides or back of a vehicle. It typically is much smaller and only covers a very small portion of the original paint job.
What is a window perf?
A window perf is a see-thru window graphic! It allows you to utilize the window space on your vehicle in a safe way. A window perf allows the driver and people in the vehicle to look out, but it doesn't allow drivers driving by to see in. It's a great opportunity to use additional space to advertise your business.
Are 3M Vinyl decals harmful to my vehicle?
Absolutely not! Whether you get a vehicle wrap, vehicle decal or window perf you are actually protecting your vehicle – not causing it any harm. Our high quality 3M adhesive graphics are made to protect your vehicles from every day bumps and bruises. In addition to the great advertising opportunities that vehicle graphics provides, full vehicle wraps provide a great opportunity to protect another investment – your car, truck or fleet!
Do we need to have the graphics ready or can you help with the graphic design
You absolutely do not need to have any graphics ready prior to coming in for a consultation! We can do your graphic design and install – all in-house. It helps to have a general idea of the type of logo design or graphics that you'd like on your vehicle. Its okay to come in with a blank canvas too, our creative team is more than happy to sit down with you and create, develop and implement a design that works best with your marketing strategy.
How cost effective are vehicle graphics compared to other forms of advertising
Sometimes a picture is worth a thousand words. Take a look at these statistics and see for yourself. You spend a fraction of the cost for the same amount of impressions. Not only that, the impressions on vehicle graphics vs. other forms of advertising is higher as well. So not only do you save money on this form of advertising but you also have an opportunity to increase the impact of your marketing campaign.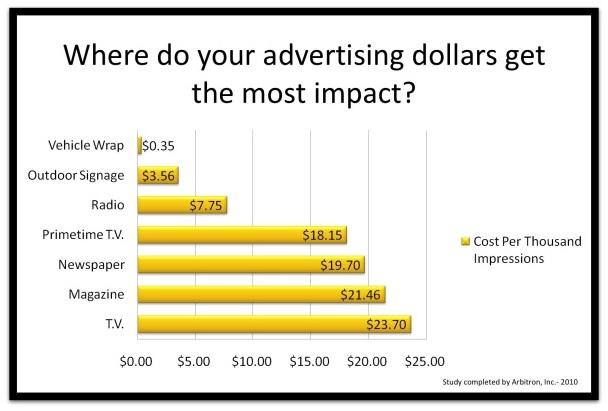 Want to know more? Just give us a call. We're always here.
LRT is your one-stop-shop for all your marketing and graphic solutions. We provide vehicle graphic design, printing, assembly and order fulfillment nationwide. With our handpicked network of 3M Certified Installers located in all major markets we're guaranteed to have an installation team near you. If you're located near our headquarters at 1401 Mangrove ave. in Chico, CA we also offer in-house graphic installs in our state of the art temperature controlled vehicle wrap facility. For the surrounding North State and Northern California areas like Oroville, Paradise, Corning, Red Bluff, Redding, Orland, Reno, Sparks, Yuba City, Marysville, Yuba City, or Sacramento we provide vehicle pickup and delivery services for a nominal charge.
Get the industry experts in vehicle graphics and call us today for a FREE quote at (530) 879-9261 or (888) 934-6578.
Vehicle Wrap and Fleet Graphic Services